Culligan® Water Softeners
Stop the damaging effects of hard water today!
Soft Water Solutions
Culligan® Aquasential™ Water Softeners protect against the most common water problem in North America - hard water. Our high-quality, efficient water softeners are the best solution to the damaging, expensive effects of hard water.
Say goodbye to dry skin, spotted glassware and high water heating bills
when you rent or buy a Culligan® Aquasential™ Water Softener!
Water softening utilizes a process called "ion exchange" to remove dissolved hard water minerals such as calcium, magnesium, iron and manganese. These minerals can't be trapped by a filter, so a molecular reaction is required. Water softeners have resin beads that hold onto sodium, and as the hard water flows through the resin, the sodium is swapped for the hard water minerals. The hard water minerals are trapped in the softener and a trace amount of sodium flows out with the softened water.
Culligan® Aquasential™ Water Softeners are easy to use and maintain - there are no filters to change or flush. Simply fill with salt when needed, knowing that Culligan's advanced regeneration technology reduces overall salt use. Find out how much a Culligan® Aquasential™ Water Softener could save you with our
savings calculator
.
Culligan now offers the Culligan Connect™ app, linking your phone to data from your Culligan High-Efficiency Water Softener. This allows you to access real time information on water usage and salt levels and send you alerts for unexpected changes in flow, saving time and money.
Learn more about the groundbreaking Culligan Connect™ app.
---
Benefits of a Culligan® Aquasential™ Water Softener
Provides a continuous supply of soft water for your entire house
Reduces soap residue on hair and skin
Leaves clothes brighter and soft to the touch
Makes household cleaning easier and less expensive
Prevents hard water spots on glassware, dishes and utensils
Reduces soap scum and scaling on faucets, sinks and tubs
Reduces water heating bills
Increases the lifespan of water-using appliances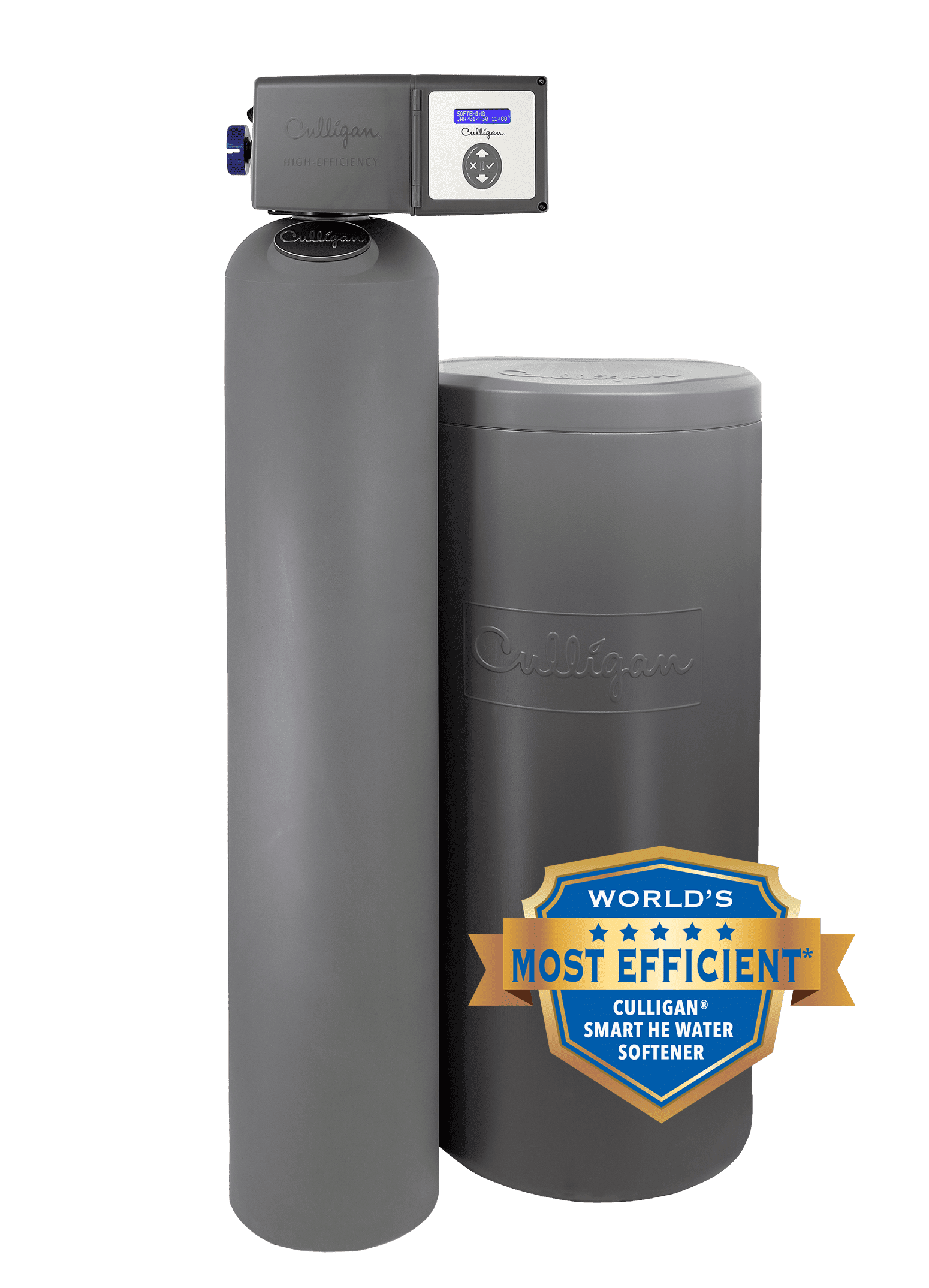 Popular Culligan® Water Softener Models
Learn more about the NEW Aquasential™ Water Softener by Culligan:
Culligan Pricing
Every Culligan® Aquasential™ Water Softener System and installation plan is customized based on your water treatment needs. Your local Culligan Man™ will review the hardness of your water, the size of your household and even your home's plumbing before recommending the perfect water softening solution for you and your budget.
*HE Softener when configured with proportional up flow brining with Aqua-Sensor®.
Latest
Blog Posts
Give the gift of great-tasting, high-quality water this year! Get started with a free water test from your local Culligan
Salt-free water conditioning offers multiple benefits. It can be a great alternative to traditional water softening if you live in
I had a limited time frame with which to schedule my initial appointment since my husband and I were only going to be in town for a few days. We were very grateful that we were accommodated, especially during these difficult times. The sales person was very thorough in his explanation of options. The installation service was within a week of acceptance of the estimate since they had my system in stock. The water provided for our home is very hard and I could not even wash one load without a film being left on the dishes. So we are happy to have our new filtration system and happy that service was quick.

Nancy Barnidge
- Culligan Customer